Cosmetic Dentistry in Midtown Manhattan, New York, NY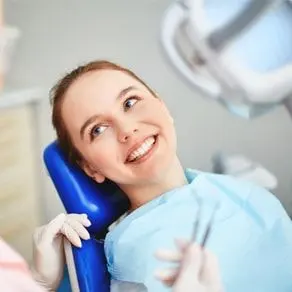 Perfect smiles aren't just for celebrities. You too can have a perfect set of pearly whites that you feel proud to show off. So, what's holding you back from that perfect smile? Are your teeth stained and yellow? Do you have crooked or slightly unevenly shaped teeth? If so, our Midtown Manhattan, NY, dentist Dr. Sonia Kohli and hygienist Mel Hadzovic can help you get that red-carpet smile with the help of cosmetic dentistry.
What Cosmetic Dentistry Can Do
If you're even been envious of an actor or model's perfect set of teeth, chances are fairly good that those smiles are perfect because of cosmetic dentistry. Better yet, our Midtown Manhattan dental team can help you get the very same smile.
Cosmetic dentistry is designed to improve the shape, size, color, and overall appearance of your smile, whether you need to correct a single tooth or all of your teeth. We can work with you to determine which cosmetic option is best suited to your needs and goals.
Cosmetic dentistry can be used to,
Lengthen short, stubby teeth
Make teeth appear even and symmetrical in length and size
Remove stains and brighten the color of your teeth
Straighten crooked and misaligned teeth
Remove excess gum tissue and treat "gummy smiles"


Types Of Cosmetic Dentistry
Whether you're looking to make small alterations to your smile or full makeovers, the dental team here at our Midtown Manhattan, NY, practice offers the treatment or treatments to fit your needs. Some of the most popular cosmetic dentistry options we offer include,
Dental bonding: This non-invasive dental procedure involves applying a tooth-colored resin to areas of a tooth to fill gaps between teeth, chips, and small stains. This is a great way to hide minor imperfections in a tooth.
Cosmetic contouring: Contouring refers to shaving off small amounts of enamel from a tooth to resize and alter the shape. This is often used to buff away very small chips in a tooth. While this procedure is very commonly performed on teeth, cosmetic contouring can also be used on the gums to remove excess gum tissue.
Teeth whitening: If you want a fast, safe, and effective way to get your teeth several shades whiter in under one hour, then our professional in-office whitening system can give you the quick results you want. It removes stubborn yellow stains caused by aging and diet and lightens the actual color of your teeth.
Dental veneers: Remember that Hollywood smile we were just talking about? If you want to hide a variety of imperfections and get a set of perfectly shaped and even teeth, veneers can do just that. These customized ultra-thin porcelain shells are bonded directly to the front of your teeth to recreate your dream smile.
We love nothing more than crafting smiles that make our clients look and feel their best.

If you are interested in improving your smile with cosmetic dentistry services, call Sonia Kohli DDS
in Midtown Manhattan, NY at (212) 644-6360 today for an appointment!